STOP PRESS! REITZLE EXPLODES!





The car industry has been shocked by the news today (19 April) that Dr Wolfgang Reitzle, head of Ford's Premier Automotive Group, has exploded. Sources say the announcement made today (Friday) was as much a total shock to PAG insiders as to those outside the organisation, even though they're 'glad to see the back' of 'the old nutcase'. Reitzle is believed to have formally exploded earlier this week but management withheld the news until today (today) to give them time to clear up the mess. Dr Reitzle enjoyed a long and successful career, primarily at BMW where he was responsible for the dynamic excellence of cars such as the E36 3-series and also for the decision to revamp the canteen with a range of soups. He was also instrumental in BMW's scheme to completely bugger up Rover and then write it off against tax. Ford were delighted when, in 1999, the six times winner of Precision Moustache Wearer of the Year agreed to head up their prestige arm which encompasses many famous brands including Jaguar, Volvo, Campbell's Concentrated Soup, Aston Martin, Lincoln, Heinz Big Soup, Land Rover and Cup-a-Soup. The reasons behind Dr Reitzle's explosion are, as yet, unclear, but insiders suggest it may have something to do with soup.
ERRATUM: Due to problems with our complex spell checking system it seems that the word 'exploded' has appeared in the article above. We now accept that this should have read 'resigned'.



VAUXHALL IN LAST DITCH ATTEMPT TO BE LIKED




Stung by yet another underwhelming response to its new Vectra, Vauxhall has come up with a new sure fire way to make the motoring press like its cars. In an almost unprecedented move the Luton-mired firm is radically and expensively changing its image, starting with a new badge and accompanying name. 'The new corporate logo will be this lovely oval shape,' explained one insider. 'And we're rather chuffed with the attractive background colour too.' When Sniff Petrol noted that the oval was in fact blue our man was quick to react: 'No,' he countered, 'it's greeny-grey.' There will be a whiff of familiarity about Vauxhall's new name too. 'To maintain consistency, and save a few quid on sign writing, we were adamant we needed a name that still started with a 'V' and after much deliberation I think we've found it,' our not-Griffin-badged-anymore mole continued: 'Vord.'
However, the revamp doesn't end there. In a second phase of changes Luton, long time home of GM's UK wing, will be renamed 'Lutagenham' and will start making some sort of diesel engine. There are also rumours that the upcoming, and reputedly radical mid-size estate car will be badged Vectraeo. 'And if that doesn't work,' spat one spokesman, 'Jeremy Clarkson can stick it up his arse.'



Vauxhall's new
logo, yesterday

Dr Reitzle, shortly before he exploded

SPEED CAMERAS SOLVE EVERYTHING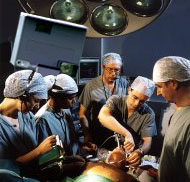 The Government is feeling extra smug this week after the decision to extend a scheme that allows police forces to keep the revenue generated by speed camera. 'This is marvellous,' crowed junior transport minister Junior Crowe. 'These forces will have the cash to put up plenty more cameras and that can only be good for drivers, motorists, shop keepers, children, the elderly and, erm, animals. In fact, it's good news for all. Speed cameras solve all our problems at a stroke, and it means we can continue to do sod all about other transport problems.' In fact, Sniff Petrol has discovered that the Government is so convinced of the panacean powers of speed cameras that it plans to introduce them into other areas as well. Under a far-reaching scheme known as Project Snakeoil Gatso units will also be installed as disciplinary enforcers in schools and as a crime deterrent in key urban areas. 'This will enable us to eliminate crime at a stroke,' noted one Whitehall source. 'Just as long as those crimes are committed at above the set speed threshold.' Most radically, speed cameras will be installed in 57 hospitals across the country where they are expected to cure the sick, heal the lame and silence the terminally moaning. 'Is there nothing these wonderful cameras can't sort out?' beamed one minister yesterday. 'Oh, except driving standards. Bugger.'




A Gatso assists with minor surgery at Manchester Royal Infirmary, yesterday





More flecks of sick from our used car expert CARCOAT DAMPHANDS

Readers writes asking if it's worth nubbing the christophers on an MX5, '47 on the nodger, lovely firmness, doughy paps. But seven milky ones feels snotty. My advice, go in smooth on a pack of bumcakes and see if he'll lick it.

MX5 question reminds me that around this time of season some gareths get tempted to fold the pancake on a lamp handle. Don't be lovely wait until it's creamy, then slice 'em.

Spotted in the classifieds: '14 TT, full movement, slimy turds, hot rock. Up for twelve parkies. Someone's having a shitter.

How do you fancy a moist larry on Y? Fat Gary in Epping's got two sweet sherries, pliant ears and fat nose the pair of them. All for a demi more. An ample laura and no mistake. Fork it.

Mate's just dropped his mess on a cool sensation in the party seven. Wiped on the curtains, hopped the francis, soaked up the discharge. Grunties.

Torry Canyon in Leicester writes asking for potatoes on a '702 Chesterfield in puce teeth rub. Up for five and quarter in the porkshaft. A bit bulbous in my book, try painting the stairs, cup the balls, see what falls in your hair.






TRULLI AWFUL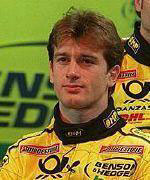 The gossip-mongering paddock-pundits are right and all people with eyes and ears are wrong as it was revealed this week that Jarno Trulli is a piss-poor driver. Last season stories abounded that, despite fine qualifying performance, Trulli was really really slow in the races. There were suggestions in prominent magazines that Trulli needed some driving tuition from some guy who used to explain what a racing line was to Nigel Mansell back in the days when Alain Prost was known as a success. F1 magazine's experts explained: 'Trulli's race pace is proportionally a lot slower compared to his qualifying pace than any of the other drivers'.' Experts noted that, since F1 magazine is owned by Bernie Ecclestone, it must be true. In the first race of the season, what looked like a heroic performance from Trulli as he ran second to Coulthard and defended from Schumacher, was actually, journalists pointed out afterwards, a woeful showing. On lap nine Trulli span into the wall after hitting a patch of oil on the track, something that was entirely the driver's fault, according to Maurice Ital from Every Other Sunday magazine: 'Jarno's ragged driving style was responsible for his downfall. His habit of braking extra late into corners means that the bodywork of the car acts as a giant liebig condenser and distills oil out of the air and causes it to condense under the back wheels of his car,' he noted, unconvincingly. Sniff Petrol pointed out that the traction control should have salvaged the situation, but Ital was swift to counter: 'You see Jarno's ragged driving style can cause the traction control software to re-programme itself in medium-speed corners,' he insisted. 'It's rather like putting a magnet on a fridge. No, a cassette tape. Or something. Anyway,' Ital concluded, 'he smells funny and he's got no mates and we hate him. So nurrrrr.'

Trulli: trying not to cry, probably




DR FERDINAND PIECH RETIRES









On 16 April Dr Ferdinand Piech celebrated his 65th birthday and his official retirement from head of the Volkswagen Group. We take a look back at some of the highlights of his career

Contrary to popular belief Dr Piech was not born into the Porsche family. He won his family history in a Lower Saxony cow punching contest organised by the sports car maker to distract critics from their embarrassing involvement with the Nazi party.

Piech cites the Porsche 917 race car as one of his finest achievements, except for one detail: 'The glovebox action was inadequately damped' quipped the former engineer.

Since 1964 Dr Piech has claimed that he can 'smell' colours

Piech had a unique way of dealing with troublesome managers. 'I simply arranged to have them killed,' quipped the slapheaded autocrat.

In 1977 Piech became European Face Wrestling champion after beating Alan Hansen in the final.

Unlike soup loving fellow engineering loon Dr Wolfgang Reitzle, Piech is not a big fan of ox tail soup: 'I don't like the bits in it' quipped the former Audi boss.

In his last years at VAG Dr Piech had every single internal door in the Volkswagen head office redesigned at a cost of over 40 million Deutchmarks to ensure class leading shutlines. The completely pointless move was prompted by a rumour that BMW's Munich HQ boasted class leading 3mm internal door tolerances.

Dr Piech's legs are made of aluminium. 'It makes me 17% more efficient climbing stairs,' quipped the now-retired mentalist.

On his last day at VAG Dr Piech was presented with a specially constructed vehicle, built by VW engineers using a Golf chassis and the latest 150bhp diesel engine. The vehicle was built to Piech's own plans and is codenamed the 'Death Machine TDI PD 150 SE'. Before leaving Wolfsburg for the last time Piech screamed 'I WILL RETURN! MWAAA-HA-HA-HAAAAAA!'.



� 2002. Sniff Petrol every fortnight. Next issue 3 May

This fortnight our new besty mates are:

Jon Walsh, William Goodhand, Will Watson, Poo

Point out the spelling mistakes and stuff: