The smoking gun of motoring, every month


NEW LICENCE PLATES REVEALED






A further eight states have this week revealed new slogans for their licence plates. The revised plates have been inspired by Kentucky's surprising but largely well received decision late last year to unveil a brand new design of licence plate bearing the slogan "The Crappiest State In The Union". Now a further eight states, amongst them Texas, New York and California, have seized on this new mood of in-your-face honesty for their own licence plate slogans (see below). Several other states are expected to follow suit during 2003, although many others are not convinced. "I think we've got better things to worry about," said Spanky Pighammer, spokesman for Washington State. "Although I can't remember what they are."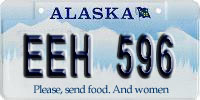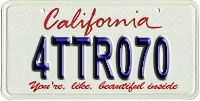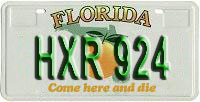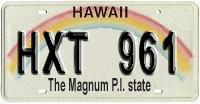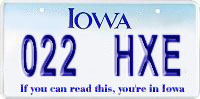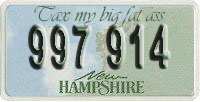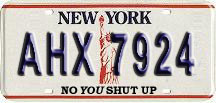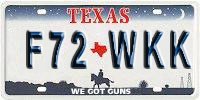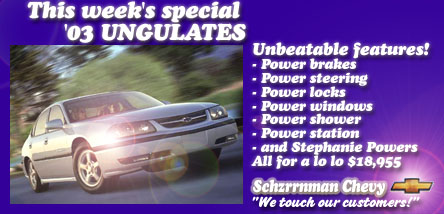 LUTZ DECONTENTED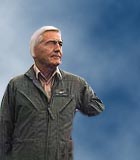 Bob Lutz, General Motor's legendary product development boss, has announced plans to practise what he preaches by having himself decontented. Following criticism of GM's decision to reduce costs by stripping equipment out of its vehicles, the company's charismatic 'car guy' decided to put on an inexplicable show of solidarity by allowing engineers to remove certain 'non essential' items from his body. "Bob was happy to prove that decontenting is not a bad thing," noted GM Executive Senior Vice Junior President of Engineering, Randy Monkeygism. "That's why he had no problems with our new programme to selectively destandardise his appendix, one of his kidneys and most of his left arm."
GM sources say that the initial surgery was so successful that Lutz immediately commissioned a second programme to phase out other parts of his body including removal of an eye and one of his ears.
"Bob functions real well without these superfluous items," claimed one insider. "So we've decided to initialise phase three which will involve the removal of Bob's legs. The only delay at the moment is in engineering a lower cost replacement based on a small trolley. The wheels work real good already but we're still trying to design the braking system to incorporate ABS which we can then delete, along with his head."



Lutz shows off his new more cost effective appearance yesterday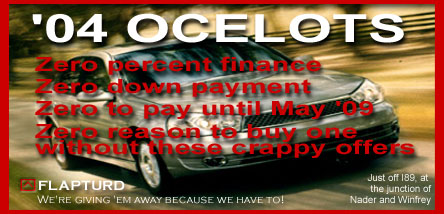 FORD 'EXCITEMENT' EMBARRASSMENT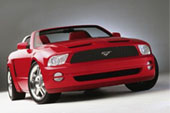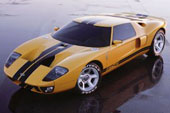 Ford has been forced to apologise to its dealers after accidentally unveiling some future models which, sources say, were 'exciting'. Blue Oval salesmen across the US were said to be left bewildered and confused by these announcements, specifically of the forthcoming GT supercar and the Mustang concept which heralds the look of next year's production model. "It just isn't right to shock dedicated employees like that," complained Ford Dealership Association spokeser Bud Lyte. "The guys who make their living selling Ford motor vehicles just aren't used to seeing a car that is what we in the business call 'interesting' and for Ford to show two cars that are both 'interesting' and 'exciting' just isn't fair. We've had reports of racing pulses, renewed optimism and consequent delays in actioning that day's recall notice."
Ford bosses in Dearborn have apologised for the error and have promised that there probably won't be much more 'excitement' for its dealers throughout 2003. As a further precaution, and to offset any residual 'excitement' still in the system, every dealership is to receive an extra shipment of Taurus LXs.



Some excitement, yesterday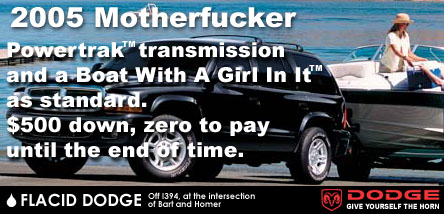 KIA WARRANTY WARPS SPACE-TIME CONTINUUM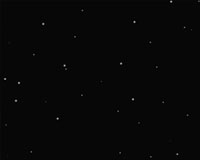 The battle over which manufacturer gives American drivers the best warranty has reached a new and more sinister level this week. Long time industry leader Kia, under threat from other brands attempting to match its remarkable 10 year warranty scheme, retaliated by announcing a new plan which is so comprehensive that it has warped the space-time continuum. The space-time continuum was invented in 1906 by mathmatics professor Hermann Minkowski as a way of combining the separate physical constructs of space and time into one mathematical/physical entity called 'space-time', because the equations of relativity show that both the space and time coordinates of any event must get mixed together by the mathematics, in order to accurately describe what we see. Unfortunately Minkowski forgot to allow for the possibility of a Korean budget car maker announcing a new warranty package which claims to last 'for the rest of time' and will cover drivers 'whereever they are'. Kia's far reaching offer is designed to outflank rival offers from Honda, who now claim they will replace your car 'even if you drive it into a ravine, on purpose', and Subaru, who say their own cover lasts 'for the life of your first born child'. Unfortunately, in their haste to remain class leader it now seems that Kia has completely fucked up the very fabric of the world around us. Robot voiced physics expert Professor Stephen Hawking was one of the first to react to this startling new development: "Bugger," he said.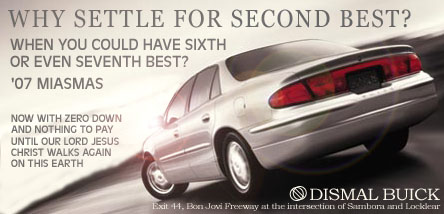 'Colonel' Stetson Wetpaw, owner of the largest vehicle retail site south of the Mason-Dixon Line, gives his unique view of the car market in the US of States

Howdy friends, this is the Colonel squeezing his balls on your ears here. And shoot my sister if 2003 ain't the plumpest weasel I've ever beaten. We got a whole bucket o' lizards fighting their shit biscuits to rub diesel on your feet and I love it. Ped Xing.

Chevy's gonna be punching the guts outta my screen this year with the son of a mother SSR. This Harrison will have you up to your cousin in 'slaw. Minty.

Meantimes, over at Chrysler they got their pants full of pies with the Magnum SRT-8. This is back grabbing your ass and it's right. Spearminty.

Finally, the Colonel couldn't spit chips without barfing his bastard on the sensationalation Ford GT. Jeez, this is a pretty bitch and it'll move like a Mandy full of candy. Doubleminty.

Yea.




OBJECT IN REAR VIEW MIRROR REALLY WAS CLOSER THAN IT APPEARED


BUSH: NEW TAX BREAKS FOR PEOPLE WHO WANT TO JUST BURN OFF SOME OIL 'FOR FUN'





� 2003. Sniff Petrol every month. Next issue 7 March

Written by Sniff Petrol

Thanks to Jim Wood, Flaming Lips and Poo