Driving on the hard shoulder of motoring, every month






MORE SHIT SCHEMES SOON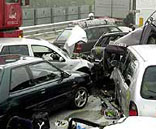 Hot on the heels of a new trial allowing drivers to use the hard shoulder of the M42 during busy periods, the government has announced more completely rubbish schemes aimed at causing chaos and killing people. First up is a new proposal to allow cars to mount the kerb and drive along the pavement. 'This will be a significant aid in keeping traffic moving in urban areas,' honked Department of Transport spokesman Feckless Twaat. 'We see no safety compromises as long as motorists treat this system sensibly. That means only using the system when it's rush hour. Or a bit busy. Or Thursday. And there will obviously be sensible precautions, like not allowing pavement driving near schools. Unless drivers are simply crossing the pavement to get to the school playground, or "High Density Traffic Short Cut Zone" as it will now be called.'
Twaat also revealed that if the hard shoulder scheme is a success it could mean more radical measures for motorways; 'How often are you stuck in traffic on a motorway and you notice that the opposite carriageway has almost no cars on it at all,' he spewed. 'Our analysts have realised that this is a waste, so in future we may allow drivers on, say, the southbound M6 to simply drive up the northbound carriageway instead. As long as motorists are sensible about this I can see no way in which it could lead to an horrific accident.'
Also in the pipeline are proposals to allow gridlocked drivers to plough through shopping precincts, other people's gardens and minor rivers. 'All of these are under-utilised and could be helping to reduce congestion,' woofed Twaat. 'We will begin to allow traffic to use these areas just as soon as we've worked out how to install them with speed cameras.'

Another successful transport initiative, yesterday

LEXUS PREVIEWS PIKEY POWER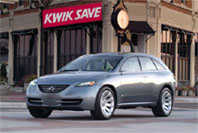 In an attempt capitalise on Gordon Brown's recent move to promote bio-fuel technologies, Lexus has revealed that its new HPX concept may be developed to run on a previously untapped fuel resource - poor people.
Available as a dual fuel option at first, the production version of the HPX will accept standard petroleum, or up to 50kg of poverty. Details as to the material form of 'poor' are still being kept secret, but it is thought that low income families will be ground down into a fine paste that, once treated,will power the 4.3-litre 32-valve 300bhp V8 engine. Lexus expects the new fuel will become available from all major petroleum retailers in upper income areas. When drivers find themselves in districts with unnaturally high proportions of satellite TV viewing and Viscount biscuit consumption standard 95RON fuel will suffice, although Lexus technical director Yashimito Cheesdorito hinted that 'in an emergency you could probably just grab a teenager in a Kappa top and squash him into the filler neck.'
Lexus insiders are said to be particularly delighted that their planned dual fuel innovation will reach the market before BMW's rival system, Immigrantronic, which runs almost exclusively on asylum seekers.
'This really is a radical system from Lexus,' noted industry expert Ranpit Tratt. 'With this rate of progress who knows, maybe one day they might even launch a diesel engine.'



The Lexus HPX prepares to fill up with special 'low income' fuel, yseterday


VECTRA INDICATORS 'CANNOT BE STOPPED'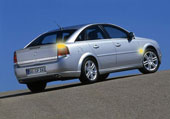 A Vectra, still indicating,
ysetreday


Red faced Vauxhall engineers have been forced to admit that the indicators on its latest Vectra cannot be stopped. The not-acclaimed mid-ranger attracted much criticism at launch for its smart-arsed indicator stalk which attempted to reinvent a part of the car that has worked perfectly well for the past 50-odd years and was in no way crying out to be buggered about with. Now Luton sources have conceded that there is no way to stop the Vectra's indicators, ever ever ever. 'We thought that you could cancel them by quickly nudging the stalk the other way,' claimed one engineer. 'But that just triggers the opposite indicator. Then, when you try to cancel that, the whole deeply annoying cycle starts again. Even turning the ignition off doesn't seem to work. In fact, I've just been into the big shed where we keep our old crash test vehicles. We completed the main frontal, side and rear impact tests for the Vectra over three years ago. Turns out the indicators are still going. What are the chances of that, eh?'
However, one boffin within Vauxhall HQ says there may be one possible solution; 'The only answer to the problem is to never use the indicators in the first place,' he claimed. 'Fortunately, since we sell most Vectras to moustachioed sales drong fleets they're way ahead of us on this one.'




FUNNY STICKER TELLY THING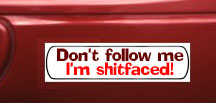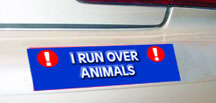 Unpopular cable TV station UK Knockers & Cars has announced a new amusing programme that might appeal to car fans (if they're very lonely and are bored of playing computer games in their fetid little grief holes yet can't be bothered to have a wank). The World's Funniest Bumper Stickers is based around a format that has proved a great success on UK K&C's sister channel, UK Shite, and which has included such legendary shows as The UK's Smelliest Trousers, America's Craziest Prolapses, and Azerbaidzhan's Most Rib-Tickling Religious Persecution. Here are some of the stickers that will feature in the programme, which is to be presented by an instantly forgettable blond girl whose eyes betray the sheer despair she feels at having to front such cack and the secret, misguided hope she harbours that a producer from a proper TV channel might see her inane babbling and offer her a job with prospects.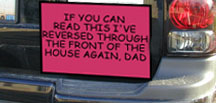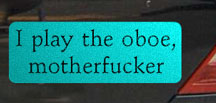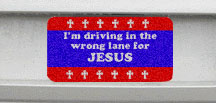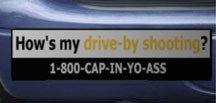 NEW NICKNAME RULING FOR F1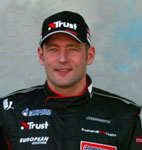 Verstappen, being not actually the boss of anything, ysteredya

Following Jos Verstappen's successful adoption of the strangely meaningless nickname "The Boss", F1 bosses have decreed that by the end of the current season all drivers must adopt an equally rhyming, inverted comma framed epithet.
'Calling Verstappen "The Boss" has really worked,' said one F1 expertator. 'It can make a rather dull man seem fun and crazy, even though in Jos's case he's technically not the boss of anything.'
Most teams have been quick out of the blocks to meet the new demands with a raft of suggestions for some of the current field including Juan "The Man" Montoya, Kimi "The Shimmy" Raikkonen, Mark "The Shark" Webber, and David "The David" Coulthard. However, it's not all plain sailing for the Williams team. 'We're really struggling to find a nickname for Ralf Schumacher,' admitted one source. 'It's just a shame his name's not Ray.'







Our Used Car Editor gets a sweatful of superminis

Christing Michael, there's a drizzle of shortcocks on the fartlet at the moment.

Punching your gran is the Nissan Micra, hammered in Brownvest and smoothing its arseflaps with a basket of bastard and now it's diseased. Suck my buttons. Crunchy.

Flick your gits on the Volkswagen Polo. It shifts like a pissgit but by Leslie it's firmly. For the well greased Gary you'll be kissing your sister. Grunties.

Slapped like a twat, bung up your fudgehole with the Citroen C3. Smiles with the slantpike, moves on the cool side. Grasp your Janet and hurt me. Perky.

Shit through a sieve for the Fiat Punto. Pasted for a face scrape in the smudger, it's flaking and gravy. Run like a bummer, don't itch your mimsy. Minty.







� 2003. Sniff Petrol every month. Next issue 6 June

Written by Richard Porter, with thanks to Stephen Grant for the Lexus thing, Beecham's Hot Berry Cold Remedy and Poo