Signing the disclaimer about semi slicks, every month






FRANKFURT SHOW: 'PLEASE STOP SENDING CONCEPTS'


The Frankfurt Motor Show is in crisis today after the organisers were forced to issue a frantic plea to car manufacturers - please stop sending concept cars. The panicked request is the result of a remarkable amount of activity over the past few weeks which has seen every known car manufacturer in the entire world announcing that it will be showing at least one concept car at the German show. The situation reached a critical point earlier this week when it was discovered that even car companies that don't exist any more, such as Facel Vega, Armstrong Siddley, Hispano-Suiza and SAAB would be bringing concepts to Frankfurt.
Although the Frankfurt show is so big that it can be seen from space, organisers fear that the sheer weight of concepts will mean that there simply isn't enough room for ordinary cars, or even people. 'This is a situation that motor show organisers fear,' explained Rumpole Feep, who is supposed to be some sort of expert on these things. 'You see concept cars aren't like ordinary cars. In themselves they take up much more space because they are built to look big and impressive and to make any eventual production model based on them appear crushingly disappointing. But that alone isn't the problem. They also require much bigger display areas to themselves, once you've allowed a suitable platform for some girls in leotards to jiggle on and provided an area in which to locate a large table of sandwiches for journalists on press day. Once you take all this into account you've barely got any room left for that mysterious office bit they always have on motorshow stands, never mind other cars.'
One solution to Frankfurt's over-crowding problem could be an offer from the organisers of the Birmingham Motor Show at the NEC. 'We'll take all the dull production cars and mangy left overs and put them on here in Britain,' offered a spokesman. 'It's what we've been doing for the past few years anyway.'



911 VARIANT A DAY BY 2004



Following the recent launch of the 911 C4S Cabrio, the GT3 RS, the Turbo Cabrio, the revised GT2 and the more powerful, Carrera-based 40th Anniversary edition, Porsche has revealed a radical plan to mark the start of its most famous model's fifth decade by announcing a new 911 variant every day for the next six months. 'We have realised you can never have too many slightly different versions of the same car,' revealed one Stuttgart insider. 'That's why we will mark the final months of the 996 model's life with a new version every single day for six months, starting in January. A little bit more power, a fractionally larger rear wing, some almost unnoticeably different wheels, you name it, we'll have it. Whatever kind of 911 you want, you'll be able to find it. As long as it's rear engined and 911 shaped of course.'
Not everyone is impressed with Porsche's brave plan, however. 'That's just silly,' said a spokesBrummie for MG-Rover. 'They should take a leaf out of our book by just saying they're going to introduce lots of exciting new models. And then not bother. Arrr. Aaa-it. Kipper tie, etcetera'
Porsche boffins remain confident that, unlike their British compatriots who appear unable to drop a V8 into a river, never mind a bloody car, they will be able to fulfil their promise. 'We have already mapped out the extremely minor changes we will be making for the first five weeks of new 911 variants,' boasted Dr. Uli Znnn, a senior powertrain engineer. 'For instance, there will be an 8bhp increase for the Carrera 4, to make the C4SE, then the next day a two wheel drive version of that, then another four wheel drive version but with a wider body and then a Targa roof version of that car, and so on and so forth. Of course, there are some things we won't do. For example, we will not offer a version with a dismally small power output aimed at big ponces who just want to show off. After all, we don't want to tread on the toes of the Boxster.'


TOSSERS TAKE TYPE-R TOP TEN

There was good news for Honda this week with the release of the Motor Industry National Guild of Expert's latest figures for new car sales to wankers. The British-built hot hatch has secured a remarkable lead over its nearest rivals by entering the complete bell-end sales top ten for the first time, straight in at number two. 'The Civic Type-R has been selling well for a while now,' noted one industry observer. 'But this new chart position is something much more significant. It means the Honda has really become a complete nobber's favourite and that if you encounter a Type-R on the road you will probably notice that the driver is a total penis. Of course, driving like a cock isn't enough. This new ranking has been bolstered by other activities, in particular the hyper aggressive defence of the car on one-make internet discussion boards and a refusal to acknowledge that it isn't necessarily the best hot hatch in the entire world. Honda must be delighted. That really is the kind of utterly twatty behaviour you just can't buy.'
Elsewhere in the wanker top ten the loyal devotion of lame wannabes kept the BMW 318i at number one, a slot it has occupied for as long as anyone can remember. BMW's popularity amongst total ringpieces also kept the M3 and X5 in fourth and eight places respectively. With the Civic Type-R in at two, the Porsche Boxster slipped to third, and there was good news for Mitsubishi whose Evo VIII moved ahead of the Subaru Impreza WRX, helped by the anonymous internet poster who last month doctored Sniff Petrol's own spoof Evo advert so that it read 'Always one step ahead', something that effortlessly exposed the high wanker contingent now amongst the Evo driving community, whilst also making no fucking sense whatsoever. The Audi TT remains a top ten fixture and it was good to see a concerted programme of motorway tailgating and inappropriate sunglasses wearing has paid dividends for the now very wankery A4. Finally, good news for Citroen as the Saxo fills in the tenth place once again. That's got to be something worth celebrating, perhaps by using your front fogs when the visibility is perfect and then driving at 52mph in a 30 zone.

The twatty top ten
1. BMW 318Ci
2. Civic Type-R
3. Porsche Boxster
4. BMW M3
5. Mitsubishi Evo VIII
6. Impreza WRX
7. Audi TT
8. BMW X5
9. Audi A4
10. Citroen Saxo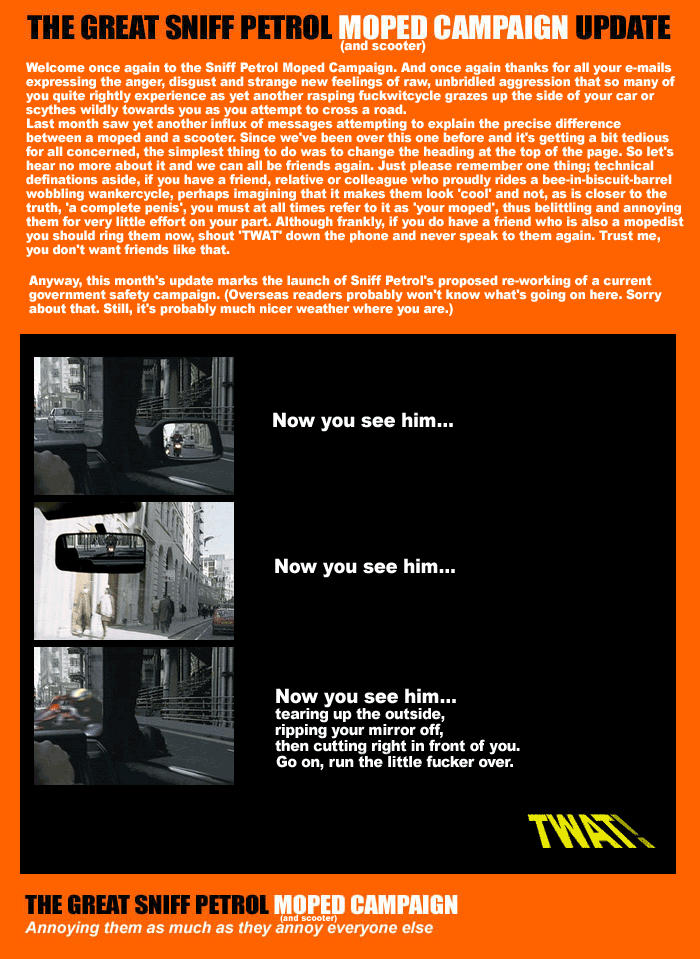 NEW MOTORSPORT GAMES COMING SOON


Children, emotional retards and people who almost certainly know more about computers than they do about personal hygiene, having conversations and girls will be delighted to hear that there's a whole raft of new, motorsport related computer games coming soon. Here's a special preview of just three of them:

Game: Richard Burns Rally 2004
Format: Sinclair Spectrum
What's it about?: You are copper topped rallyist Richard Burns and you are seeking the ultimate prize - a drive in the 2004 WRC. But to get there you must use cunning and skill to make a complete volte face seem like nothing unusual. Developers are already saying that use of brand new modelling techniques has allowed for distressingly realistic ginger hair and new levels of hyprocracy.

Game: Jensen Button Chatshow
Format: Acorn Electron
What's it about?: You are pointy faced baby race ace Jensen Button and you have been invited on to a chat show. But there's one problem. Your girlfriend has been voted off Fame Academy leaving you precious little to talk about. You must use your skill and cunning to make vaguely sexist remarks and excruciating quips, thus making you seem like someone who is trying too hard to be a bit of a lad. Developers say that advanced modelling techniques have enabled them to give players new levels of embarrassment.

Game: David Coulthard's Contract Re-negotiation
Format: Vic-20
What's it about?: You are freakishly lunk jawed F1 drone David Coulthard and you need to re-negotiate your contract for the 2004 season. There's only one problem: Everyone thinks you're a plodding dolt with no hunger to win whatsoever. You must use your skill and cunning to hide your apparent lack of skill and cunning. Only then will McLaren decide to ignore any number of other, highly talented drivers and annouce that your place in the team is assured. Developers say that use of advanced digital idiocy techniques will allow F1 fans to experience powerful feelings of confusion, injustice and disgust.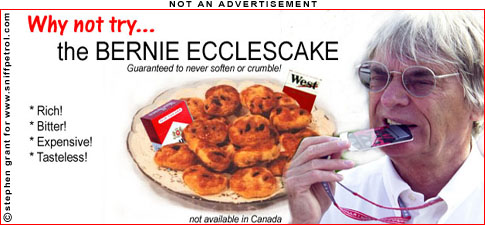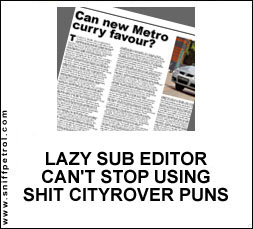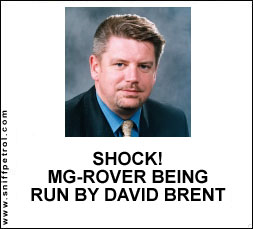 � 2003. Sniff Petrol every month. Next issue 3 October



Written by Sniff Petrol, with thanks to Stephen Grant, Colin G and Poo