Not as funny as it used to be, every month





LIST-BASED SPECIAL


This month Sniff Petrol salutes the invention of the list. Loved by supermarket shoppers, Nick Hornby and the lazy bloke behind this website, the list underpins our modern life.
Thanks, stout list - you've saved me having to write any proper copy this month

FIVE JAPAN-ONLY MODELS
1. Subaru YTX Supershit Excellent K-style Hmmm
2. Nissan Jonathan MkII Super Grunty
3. Suzuki ZZ Smackdown Fantastic Edition Prolapse
4. Isuzu Spooky Pavement Bastard (Series 3 Miasma)
5. Toyota Obsilon Meat Clasp F-model - Type Pam Ayres



FIVE AMERICAN SPECIAL EDITIONS
1. Cadillac Pamplemousse J.Lo Deluxe
2. Chrysler Midtown Quebecois Superb
3. Pontiac Grand Latte Lactose Intolerant
4. Lincoln Slamdunker Kevin Bacon Edition
5. Ford Engorgement Nice Gap Rollneck Series



FIVE SPECIAL EDITIONS NOT SOLD
OUTSIDE OF GERMANY
1. Fiat Punto Mullet
2. Ford Fiesta Turdy Boy
3. SEAT Ibiza Party Ja?
4. VW Polo Juicy Cock
5. Opel Astra David Hasslehoff Edition




FIVE RUDE THINGS CAR ENGINEERS MIGHT HAVE
TO SAY WITHOUT SNIGGERING
1. Lobe
2. Big end
3. Layshaft
4. Bell housing
5. Wankel







FIVE THINGS LISTED IN THE 'OTHER INTERESTS' BIT ON FERDINAND PIECH'S CV
1. Shouting
2. Special moves
3. Looking at things in a funny way
4. Mystery
5. Creating new master race (Grade 5)




FIVE LINES GIORGETTO GIUGIARO MIGHT HAVE USED TO IMPRESS PEOPLE IN THE 1970s
1. I designed the Lotus Esprit you know
2. Of course, without me they'd still be relying on the Beetle
3. Colin Chapman has invited me to a Grand Prix
4. I could have Marcello Gandini in a fight, easy
5. Have you seen The Spy Who Loved Me?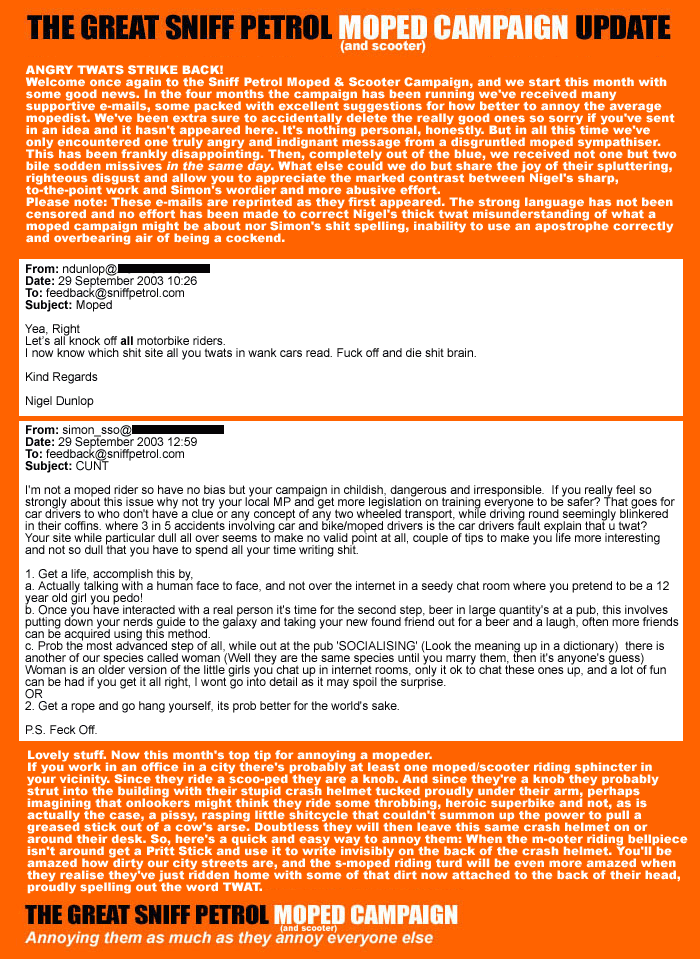 THREE PARTICULARLY ANNOYING THINGS TO COME OUT OF JAMES ALLEN'S MOUTH
1. "The noise echoes off the building like ghosts in a town"
(Monaco '03)
2. "Michael Schumacher owns this place - literally"
(USA 2003)
3. "Yes, I'd love to do the F1 commentary"
THINGS THAT ANNOYINGLY HAVEN'T YET COME OUT OF JAMES ALLEN'S MOUTH
1. His resignation
2. His large intestine
3. His tedious fact spouting girly swot brain




THINGS EVERYONE LOVES ABOUT
JACQUES VILLENEUVE
1. His pleasant accent
2. His rebellious baggy overalls, ooh the bad lad
3. The time he dyed his hair, and how really super it looked
4. The way he got out of car at Indianapolis and ran like a girl
5. His winning form
THINGS COLIN MCCRAE MIGHT DO NEXT SEASON
INSTEAD OF DRIVING A WRC CAR
1. Practise cheeky smile
2. Host Colin's Massive Saturday Night Laugh In on ITV
3. Just mooch about being a bit grumpy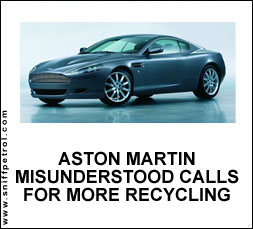 � 2003. Sniff Petrol every month. Next issue 7 November

Written by Sniff Petrol, with thanks to Poo